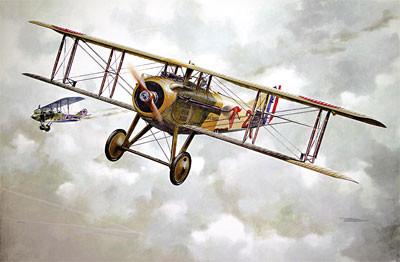 Roden Aircraft 1/32 Spad VII CI Early WWI Main French BiPlane Fighter Kit
This Product Usually Ships In 2-3 Business Days
---
In 1918 and in the post-war years there took place an 'exodus' of SPAD VII's all over the world. France exported these machines to Portugal, Greece, Czechoslovakia, Brazil, Estonia, Belgium, Finland, Chile, Peru, Romania, Poland, the Netherlands and even to Thailand. At least two SPAD VII's were taken on by the newly created Air Force of the Ukrainian National Republic. 
Some of the most famous aces of the Great War were attached to this plane for a very long time. Glorious Georges Guynemer and his 'Vieux Charles'(Old Charles) with its stork emblem became an iconic hero of France. Réné Fonck, an ace of aces with 75 victories, said that "The introduction of the SPAD VII changed the face of aerial warfare". The Italian Francesco Baracca, the Russian Alexander Kazakov and also many other aces from many countries flew the SPAD VII c.1 and appreciated the flying qualities of this phenomenally successful plane. 
By the end of the Great War the SPAD VII was no longer the principal fighter of the French Air Force; it had been replaced by the more modern SPAD XIII. However, for at least a decade after the end of the dramatic air combats of the skies of the Western Front, learner pilots would continue to receive their pilot certificate flying this self same SPAD VII c.1.
---
Share this Product
---
More from this collection