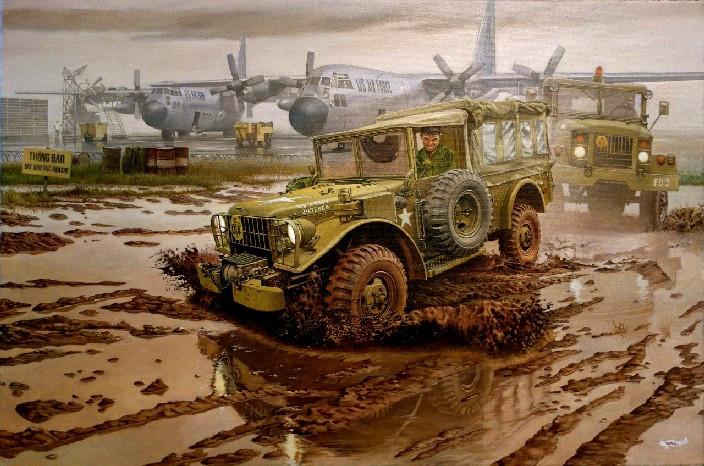 Roden Military 1/35 M42 3/4-Ton 4x4 Command Truck Kit
This Product Usually Ships In 2-3 Business Days
---
Among the huge number of different trucks used by the American army throughout the modern era (since World War II), only some can rightfully be called legendary, as it is difficult to distinguish the part they played in terms of the widespread use of the vehicles in everyday military life. One such truck was the M37 developed by the Dodge company in 1950, which incorporated all the best features of its WWII predecessors.

The M37, along with the previous models in the WC series, had a 6-cylinder engine of 230 cubic inches (3.8 liters), and a four-speed non synchronized gearbox. However, its chassis was lengthened, and the driver's cabin was separated from the body. The truck also received a new two-speed transmission. The design was successful and in 1951 around 11,000 units of this type were built and in the next three years more than 50,000 units. The emergence of the new machine was timely – in the middle of 1950, the Korean War began, in which the U.S. was directly involved before three years were out. In actual military operating conditions, the M37 quickly found itself indispensable, and many special vehicles were developed from it (a command truck, a communications vehicle, an airfield fire engine, an ambulance, etc.), and so it became a real find for the army.

The M42 Command Car, adapted from the basic M37 truck, was not a separate production series. To adapt an ordinary M37 into the M42, the Dodge firm produced a special kit to enable the rapid conversion of a standard truck into a Command Car. This kit consisted of an awning of a new type with side windows, a split rear end curtain, stronger internal lighting which permitted consideration of military maps directly in the vehicle during field meetings, and a folding table in the middle of the car body. Also, M42s were fitted out with more powerful radio equipment for more reliable communications in field conditions. When processing the standard truck into the Command Car, it was obligatory to change an individual data plate inside the driver's cabin, which was then noted for the converted vehicles in a military report. M42 numbers in comparison with the standard M37 were rather small, however, in conjunction with the 'ordinary' trucks of this type, they also participated in many of the military conflicts of the second half of the 20th Century.
Multi-part frame
Detailed interior with full and single seat
Detailed (engine, transmission, suspension, exhaust system, radiator

 

face plate)
Single piece hood
Injection-molded wheels and rubber tires with spare
Optional front-mounted winch with string
Separate on-vehicle equipment including jerry cans
(2)

 

window

 

rolled canvas
Cargo area with wood textured bed and bench seats
Canvas rails and optional canvas cover
Windscreen for canvas windows
Transparent accents (windshields, windows

 

and

 

lights)
Decals and color reference for (2) US Army vehicles: 2437864, Vietnam War,

 

early

 

1970s and 5A407CA, late 1970s - includes dash panel gauges
---
Share this Product
---
More from this collection