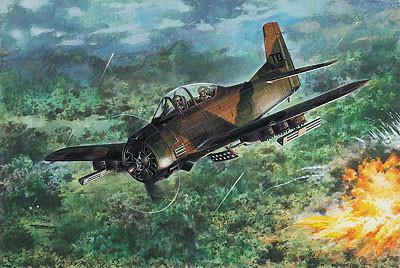 Roden Aircraft 1/48 T28D Trojan USAF Trainer Aircraft Kit
This Product Usually Ships In 2-3 Business Days
---
Ernst Heinkel Flugzeugwerke, the German aircraft manufacturing company, began the development of a single seat biplane fighter on their own initiative in the late 1920s. The HD37 model was the first outcome, and insufficiently successful, hence the license for its production was soon transferred to the USSR under the I-7 designation.
In 1932 the He 49 was created by brothers Walter and Siegfried Gunter. These two talented engineers laid the foundations of what in succeeding years became classic features of Heinkel aircraft - structural strength and an extremely elegant outline. The initial tests of the He 49 were generally satisfactory, but the Günters tried to create an even more advanced design. In the summer of 1933 the He 51A first flew into the sky - a machine which had inherited all the best aspects of its predecessor and demonstrated much better performance characteristics. The plane was rather easy to manage and had a strikingly elegant form. It made a big impression on the leaders of the Ministry of Aviation, and its nearest competitor the Arado Ar 65 - another biplane of similar design - made a weaker impression in comparison with the Heinkel aircraft. Even before the end of testing a production quantity of nine aircraft was ordered, which were delivered to the Luftwaffe in 1934. Despite some troubling accidents, Heinkel's faith in the plane was unbroken. In 1935, the first machines of the A variant came off the production line, and by the end of the year appeared the He 51B, a plane with improved performance and capable of carrying weaponry on an under fuselage bracket.
In August 1936, these planes flew operationally for the first time in the Spanish Civil War. The results of the first combat engagements were a little disturbing. The He 51 came off second best not only in comparison with the latest Soviet I-16, but even with machines of a similar design such as the I-15 or I-153. Despite all the favor for Heinkel's work shown by head of the Luftwaffe Hermann Göring, even he could not influence the fate of the He 51. Chief Inspector of the Luftwaffe Ernst Udet, hero of the First World War and a pilot of consummate skill himself, conducted several mock battles with the plane against the Arado Ar 68, piloted by the best pilots of the Luftwaffe. The He 51 lost repeatedly and its fate was sealed. Most of the machines constructed were transferred to training and other units. At the beginning of World War II the role of this machine was minimal.
---
Share this Product
---
More from this collection