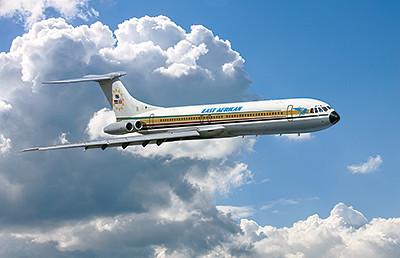 Roden Aircraft 1/144 Vickers Super VC10 Type 1154 East African Airliner Kit
This Product Usually Ships In 2-3 Business Days
---
On entering service the VC10 was a hit with both pilots and more importantly, the passengers. BOAC capitalized on this and soon part of the Airlines advertising came up with several very clever slogans with "Swift and Silent" as well as "A little VC10derness" being two of the best examples.
Britain's postal service, the Royal Mail, used a VC10 silhouette as its Air Letter logo for many years.
Interestingly, the VC10's introduction on the trans-Atlantic services showed a 40% increase over the Boeing 707'-s that were operating on those routes at the time.
Passengers quickly became accustomed to a silent cabin due to the rear mounted engines and state-of-the-art seating. BOAC's First Class service was soon the preferred choice of travel for the rich and famous. A short-lived BOAC and Cunard cooperation also added to the then luxury travel market.
East African Airways (the subject of this model) operated five Super VC'-s from its routes from Nairobi EAA was a joint company of Kenya, Tanzania and Uganda. It was the main African-based airline, operating routes around the world.
The Super VC10 was ideally suited to this Airline. One amusing story is that East African named their VC10'-s 'Jambo Jet'-s' (Jambo being a greeting in Swahili). This may have been in response to the Boeing 747 that was then coming into service.
---
Share this Product
---
More from this collection