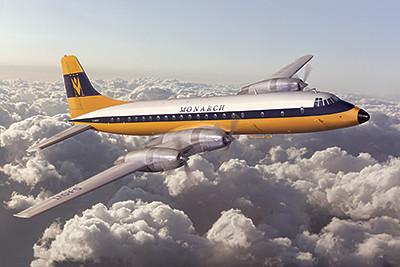 Roden Aircraft 1/144 Bristol 175 Britannia Monarch Airliner Kit
This Product Usually Ships In 2-3 Business Days
---
Originally conceived in 1946 the first flight of the Britannia took place in August 1950. It was the star of the 1952 SBAC Farnbough Air Show where due to its low noise became known as the "Whispering Giant" a name that remained with it during its service.
During 1953 and 1954 three D H Comets crashed without explanation, and the Air Ministry demanded that the Britannia undergo further testing. Due to the loss of two of the prototypes and a further accident during Crew training the Britannia did not enter service until 1957 with BOAC.
During its career with BOAC the Britannia was used on Trans Atlantic services as well as among others Africa and the Far East. BOAC's last scheduled Britannia flight was April 1965 as by this time BOAC were operating the new Jets that were coming in to service.
Monarch Airlines commenced commercial airline operations on April 5, 1968 from London Luton to Madrid using one of its two Britannia's both of which were purchased from Caledonian Airways. A further six Britannia's were later added to the fleet. This model represents a Britannia in Monarch service.
The Britannia's served mainly European holiday destinations carrying hundreds of thousands holiday makers until 1976 when Monarch became an all Jet service and retired its fleet of Britannia's. Monarch is today both a scheduled Airline as well as one of Britain's leading leisure service carriers.
Britannia's were still operating in Africa in the 1990's a fitting tribute to this design.
Although only 86 Britannia's were built in an eight-year period the Britannia is remembered as one of Britain's great Airliners. The Britannia also served with the Royal Air force as well as many Airlines Worldwide.
---
Share this Product
---
More from this collection