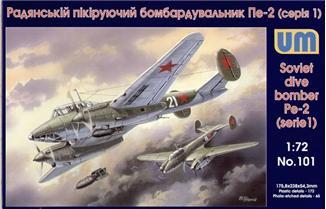 Unimodel Aircraft 1/72 Pe2 Early Soviet Dive Bomber Kit
Estimated Shipping: 2-3 Business Days
---
Pe-2 was the most common Soviet dive-bomber during WWII.
It was in production from December 1940 to December 1945.
11070 bomber, reconnaissance and training aircraft were made during this period.
Pe-2 was twin engine monoplane with low positioned wing and double tail.
Propellers had ability to be positioned.
Wingspan 17.13 m; Length 12.66 m; Take-off weight (normal) 7700kg, Speed 506 km/hr; Range 1250 km.
Crew of 3 included pilot, navigator and radio operator, which manned machine gun.
Aircraft had bomb bay inside main fuselage and bomb bay in rear of each nacelles.
There were also 4 attachment points for external load.
Normal bomb load was 600kg. Maximum 1000kg.
Dive-bombing was done only from external attachments.
Power plant consisted of 2 M-105R engines rated at 1100 H.P.
Early PE-2's had four 7.62mm ShKAS machine guns.
Navigator operated one of them out of the TSS-1 turret.
Two others were permanently fixed in the nose part.
Radio operator manned fourth gun in MV-2 turret under the fuselage.
Pe-2 participated in combat on Eastern Front from the first to the last days of war.
They were also used in short campaign in Far East to defeat Japan's Imperial Army in the summer of 1945.
---
Share this Product
---
More from this collection