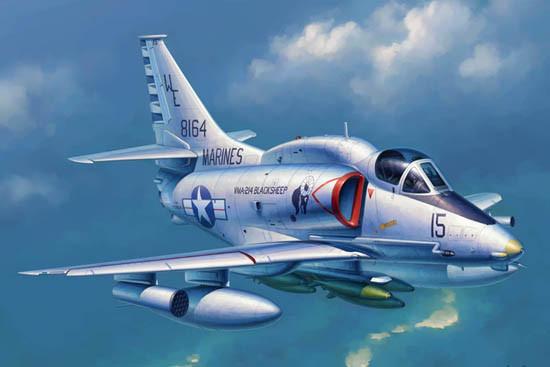 Trumpeter Aircraft 1/32 A4M Skyhawk Carrier Launched Ground Attack Aircraft Kit
This Product Usually Ships In 2-3 Business Days
---
The A-4 Skyhawk was designed by Douglas in response to a U.S. Navy call for a jet-powered attack aircraft to replace the older A-1 Skyraider. Douglas opted for a design that would minimize its size, weight, and complexity. The result was an aircraft that weighed only half of the Navy's weight specification. It had a wing so compact that it did not need to be folded for carrier stowage.  
A-4M: Dedicated Marine version with improved avionics and more powerful J52-P-408a engine with 11,200 lbf (50 kN) thrust, enlarged cockpit, IFF system. Later fitted with Hughes AN/ASB-19 Angle Rate Bombing System (ARBS) with TV and laser spot tracker, 158 built.
Fine engraved surface features, well-appointed cockpit, full engine, separate aft fuselage section, intake trunking, segmented canopy, avionics dorsal spine 'hump' fairing, separate control surfaces and speed brakes, optional position slats/flaps, nose avionics bays with optional position access panels, cannon bays, refueling probe, detailed wheel wells, boarding ladder, metal main gear struts and vinyl main tires.

Photo-etch parts (seat belts, seat fittings, sight frame, mirrors and speed brake interiors) plus extensive external stores (TER-3s, MER-6s, optional long and short bomb fuses, M117 bombs (x6), Mk 82 bombs (x12) and 2 each: drop tanks, AGM-12 Bullpups, AGM-45 Shrikes and AGM-65 Mavericks).

Decals and color painting guide for 2 USMC aircraft: BuNo 158164 of VMA-214 'Blacksheep' and BuNo 158166 of VMA-311 'Tomcats' - includes nose anti-glare panel, wing root walkways, instrument markings, stencil data and weapons markings.
---
Share this Product
---
More from this collection