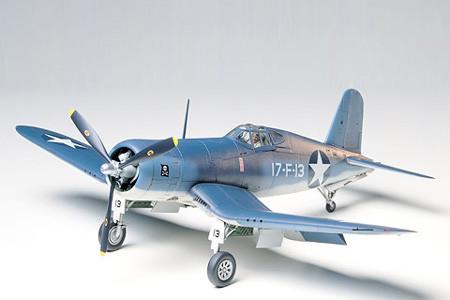 Tamiya Aircraft 1/48 F4U1/2 Bird Cage Aircraft Kit
This Product Usually Ships In 2-3 Business Days
---
The F4U Corsair was a WWII American fighter aircraft that was distinguished by its inverted gull wing design, which accomodated the 4m diameter propeller without having to resort to overly long landing gear legs. Its Pratt & Whitney Double Wasp engine produced 2,000hp and allowed the Corsair to reach a maximum speed of 636km/h. Among the different variants of the Corsair, the F4U-1 was the first to be mass-produced and it featured a characteristic framed canopy that was referred to as a "Birdcage." They were deployed to the Pacific in February 1943 and became feared by Japanese forces due to their speed and firepower. A nightfighter version, designated F4U-2, was also created and featured a radar pod mounted near the wingtip of the right wing. Over 9,000 examples were produced and they were used by American, British, and New Zealand forces.
★ Accurate model kit of the "Birdcage" canopy Corsair
★ Includes parts to assemble either the standard F4U-1 or the F4U-2 nightfighter.
★ Distinctive inverted gull wing design faithfully rendered.
★ Highly detailed engine and cockpit. One pilot figure included.
★ Includes parts for 1,000lb bombs and drop tanks. Comes with four marking options.
---
Share this Product
---
More from this collection