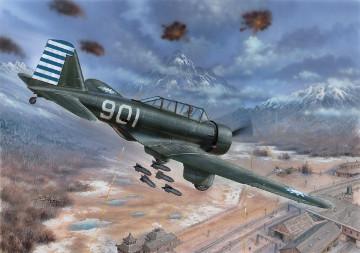 Special Hobby 1/72 Frrom Series: Gamma 2E Bomber w/China AF & British Aeroplane Experimental Markings & Photo-Etch Kit
This Product Usually Ships In 2-3 Business Days
---
Donald Douglas provided the capital to found the Northrop Corporation in 1932 and put his friend Jack Northrop in charge. Northrop was a pioneer of all-metal construction, which he used for the Gamma mail plane, with production beginning in the winter of 1933-34. Modified with a wider fuselage, the design became the Northrop Delta, an 8-passenger transport.
The Gamma 2E was a bomber variant with bomb racks between the wheels, a semi-retractable ventral dustbin turret, and machine guns. 46 were bought by the Chinese government in 1934 to serve with 1 & 2 Sqns (Chungtui) of the 1stBombing Group Tatui, and 9, 11 & 14 Sqns of the 2nd Bomb Group.

The Marco Polo bridge incident of July 7, 1937 resulted in full-scale war between China and Japan by July 28th. The Gammas fought mainly in the battle for Shanghai. On August 14th Chiang Kai-shek's chief air adviser, Claire Chennault, instigated an attack on the Japanese fleet, but the 14th Sqn mistakenly bombed the British cruiser HMS Cumberland, fortunately without damage.

High attrition rates required the transfer of 1st Tatui''s Gammas to 2nd Tatui in October 1937. During October bombing operations, three Gammas were lost, aircraft serial No902 on the 24th, and Nos1402 & 1405 on November 11th when three Gammas attacked the carrier, Kaga.

A new unit, the 14th Volunteer Sqn, was activated in Hankow in late October 1937. Manned by foreign mercenaries under command of Vincent Schmidt, most pilots were Americans and included Schmidt, Elwyn Gibbon, George Weigle, Lyman Voelpoel and Leong (a Chinese-American). Four pilots were French, Labussière, Boulingre, Florein and Laroche, whilst Jan Rouffaert was Dutch. Chinese enlisted ranks flew as aircrew too, including mechanic Sun T. L, bomb aimers Ching Tia & Pang Tsé Tu, and gunners Liu Wen Kié, Liu Yen, Shou Chi Chen and T.K. Shou. The unit operated a mixture of aircraft - 12 Vultees, 2 Martin 139WCs, and 4 Gammas. It commenced operations on the February 7th 1938 but was disbanded on March 22nd having lost three Gammas. Surviving Gammas, if any, were probably passed to training units.

Another Gamma bomber variant, designated 5A, was purchased for evaluation by the Imperial Japanese Navy, while another, the 5B, fought in Spain. The 5B prototype featured a different canopy to the Gamma 2E and had other external modifications. The Gamma was the progenitor of the Northrop A-17 & A-17A, Douglas DB-8, TB & SBD used in WWII.
Specifications:
Low-wing, metal construction, single-engined bomber with fixed landing gear. Crew: 2. Engine: Wright SR-1820F-3 (710 hp). Wingspan: 14.55m. Armament: 1,100 lbs of bombs, 2 x .30" fixed wing machine guns, one flexible.30" machine gun in rear cockpit.
Camouflages:
Cam A : Gamma 2E Bomber with code 901, Chinese Air Force. Aircraft in service with the 9th Chungtui, 2nd Tatui transferred to 14 th Volunteer Sqn, Hankow, July 1937 to April 1938. This aircraft was used by, amongst others, William Labussière.
Cam B : Gamma 2E Bomber, probably : Chinese Air Force (code to define), 1934 / 1937.
Cam C : Gamma 2E Bomber tested by the British Aeroplane Experimental Establishment, K5053.
---
Share this Product
---
More from this collection