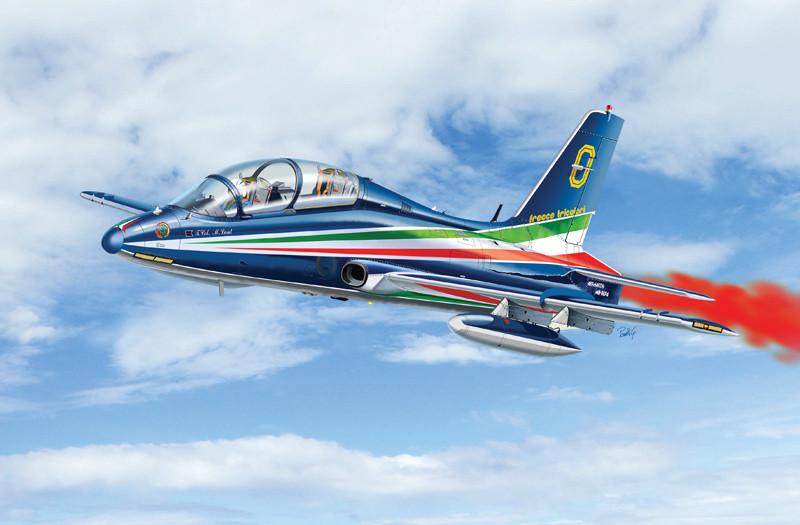 Italeri Aircraft 1/72 MB339 A PAN Frecce Tricolori Italian Aerobatics Team Aircraft Kit
Estimated Shipping: 2-3 Business Days
---
The Aermacchi MB-339 jet trainer is of conventional configuration, and shares much of the MB-326's airframe. It has a low, un-swept wing with tip tanks and jet intakes in the roots,
tricycle undercarriage
, and accommodation for the student and instructor in tandem. The first flight took place on 12 August 1976 and deliveries to the
Italian Air Force
commenced in 1979. The MB-339 is a fully aerobatic, tandem two-seat, single-turbojet advanced trainer that covers the entire advanced training syllabus, up to and including Lead-In Fighter Training. The latest MB-339CD version is equipped with state-of-the-art avionics. In 1982 the MB-339 was choosed as replacement of the glorious G-91 PAN for the "Frecce Tricolori's" aerobatic team. The team flies the
Aermacchi MB-339-A/PAN
, a dedicated variant, capable of 898 km/h at
sea level
, with nine aircraft and a solo (the highest number of aircraft of any aerobatic team in the world). The team official name is:

313° Gruppo Addestramento Acrobatico

Pattuglia Acrobatica Nazionale (PAN)"Frecce Tricolori".
---
Share this Product
---
More from this collection