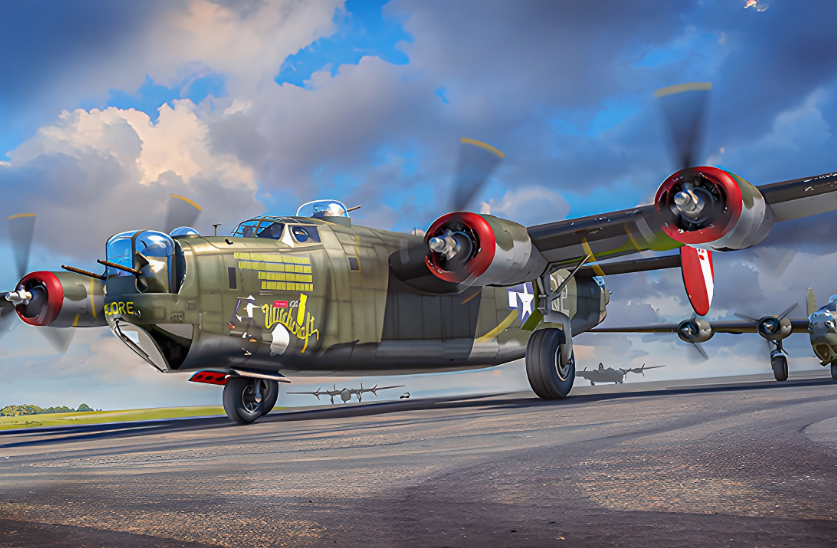 Hobby Boss 1/48 B24J Liberator USAF Heavy Bomber (New Tool) Kit
ACCEPTING PRE-ORDERS FOR DECEMBER 2023 DELIVERY
---
ALL PRE-ORDERS MUST BE PLACED ON A SEPARATE ORDER
The Consolidated B-24 Bomber, particularly its J model with an improved nose turret, represents a significant part of World War 2 aviation history. Its comparison with the Boeing B-17 highlights the technological advancements and strategic variations in bomber design during that era.
The decision by Hobby Boss to produce this aircraft kit in the larger 1/48 scale is indeed notable. This scale is larger than the more common 1/72 or 1/144 scales typically used for four-engine bomber aircraft models. The benefit of such a choice is that it allows for much greater detail in the model, which can be a rewarding aspect for model-building enthusiasts. In model building, the scale is crucial because it determines not just the size of the finished model but also the level of detail that can be captured. Larger scales like 1/48 allow for more intricate detailing, which can include aspects like panel lines, rivets, cockpit interiors, and more realistic landing gear and armament systems.
Building a model of the B-24 Bomber in this scale can be a particularly engaging project for those interested in World War 2 aircraft, as it offers a chance to explore the design and function of one of the most widely used bombers of the era. It's also an opportunity to appreciate the engineering and ingenuity that went into these machines. Additionally, it allows for a deeper understanding of the special role these aircraft played in the larger context of the war.
For those interested in military history, aviation, or model building, assembling a 1/48 scale model of the B-24 J Bomber can be a fulfilling way to connect with history and enjoy a detailed and immersive building experience.
---
Share this Product
---
More from this collection