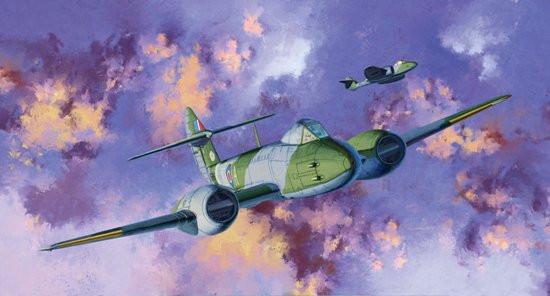 Cyber-Hobby Aircraft 1/72 Gloster Meteor F3 Fighter Kit
This Product Usually Ships In 2-3 Business Days
---
The Gloster Meteor was a British jet fighter whose primary claim to fame was its status as the UK's very first operational jet. It commenced combat operations in July 1944, and it served with the RAF and a number of other air forces for decades in some cases. The very first Meteor F.I aircraft were used to tackle German V-1 flying bombs, while the F.III was introduced in December 1944. This newer variant had longer nacelles, larger cockpit canopy, increased fuel capacity and it was powered by Rolls-Royce Derwent engines. The greatest problem in WWII combat was that of friendly fire caused by the aircraft looking similar to the enemy Me 262! This problem of misidentification was eased by painting the meteor all white. Although the Meteor was an innovative aircraft in the new age of jet-powered aircraft, it had an appalling safety record of 890 crashes and 450 pilots killed in RAF service alone.

The Cyber-Hobby Original Kit was fully designed using CAD. Based on high-tech drafting and engineering techniques, the fighter's fuselage is accurately reproduced. The body is a beautiful piece of molding, with the panel lines carefully etched onto the curved surfaces.

To give more flexibility, modelers can elect to display the transparent cockpit canopy either open or closed, with the cockpit sliding on tracks produced with the help of slide molds. The tail rudder can also be depicted in different positions as selected by the assembler. Several photo-etched items such as air brakes add more finesse to the finished aircraft, without being a hassle to assemble. The nose guns also have hollow muzzles thanks to careful molding of this 1/72 plastic kit. The Gloster Meteor was a remarkable fighter jet, Britain's very first. 
Features:

- Detailed landing gear and wheels newly tooled


- 1/72 scale Meteor F.III authentically presented




- Slide-molde technology allows sliding canopy track with details




- Detailed Meteor F.III fuselage presented true to scale with correct shape




- Wings represent laminar-flow airfoil shape




- Detailed cockpit canopy made from clear parts




- Sliding canopy can be modeled open/closed




- Detailed panel lines on both surfaces of wings




- Photo-etched air brakes on both wing surfaces




- Control surfaces can be assembled in different positions




- Rudders can be modeled in different positions




- Slide-molded rudder correctly depicted




- 4 nose-mounted 20mm British Hispano cannons accurately replicated with hollow muzzles




- Cockpit interior details including pilot's seat and control panel
---
Share this Product
---
More from this collection