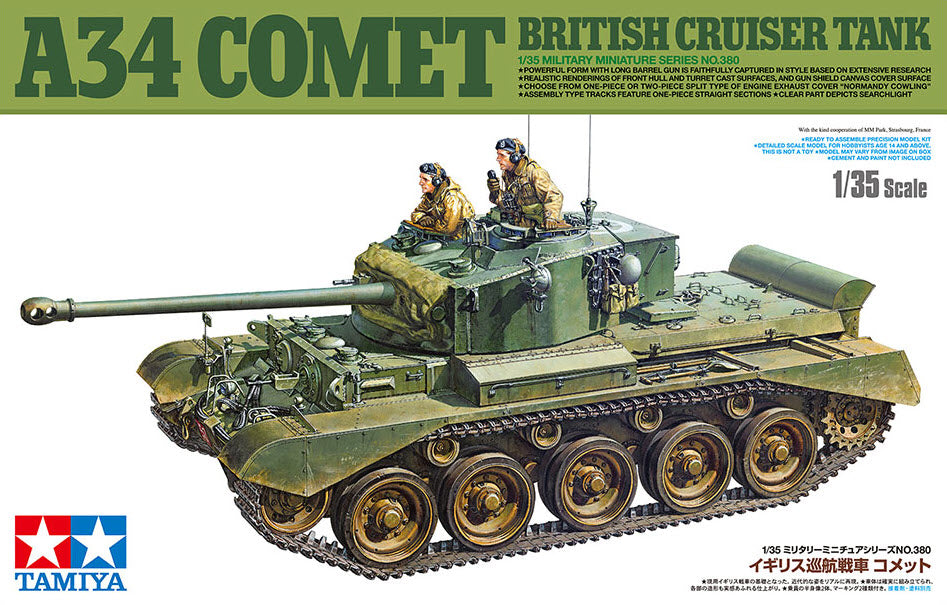 Tamiya Military 1/35 British Cruiser A34 Comet Tank (New Tool) Kit
This Product Usually Ships In 2-3 Business Days
---
The Comet was introduced at the end of World War II as a British tank that could compete with powerful German tanks such as the Tiger and Panther. The basic structure of the car body is based on Cromwell, a conventional main battle tank, and the main gun is equipped with a QF77mm gun, which is comparable to the 17-pounder gun, which was said to be the strongest anti-tank gun in England at the time.

Features:
This is a 1/35 scale plastic model assembly kit of the British A34 Comet. 

Length: 219mm, Width: 88mm.
Based on research on the actual vehicle, with a long 77mm gun on the square-shaped body that has been realistically modeled.
The hull and front of the turret have a realistic cast feel. The mantlet canvas cover is also a highlight.
The tracks are articulated with straight sections.
The so-called "Normandy cowl" duct at the rear of the hull can be selected from the left and right integrated type or separate type.
The searchlight lens on the side of the turret is made of clear parts.
The kit comes with 2 half-length figures of the crew in winter clothes and 2 types of markings.
---
Share this Product