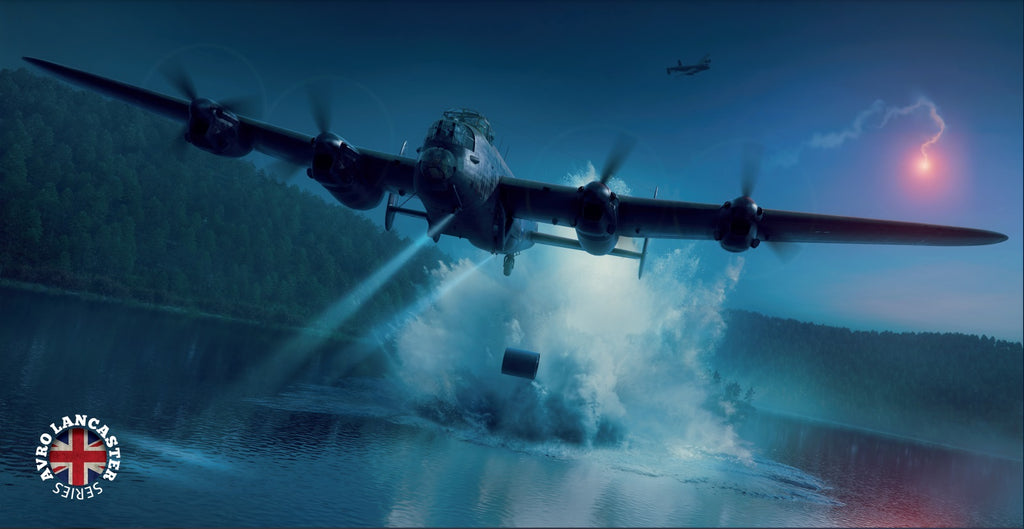 HK Models 1/48 Avro Lancaster B. Mk. III Dambuster Bomber Kit
ACCEPTING PRE-ORDERS FOR LATE SEPTEMBER 2023 DELIVERY
---
Barnes Wallis was an aeronautical engineer who had the idea of creating a special type of bomb that could bounce on water and destroy dams. The aim was not directly to flood factories, but the destruction of the dams would disrupt water supply, and hydroelectric power, and indeed, flood certain areas that were vital to the German war machine. The idea was that by taking out these dams, Germany's ability to produce armaments would be severely hampered. 
It was during the war, specifically around 1942, that he began serious work on what would be known as the "bouncing bomb".
The main targets of the raid were the Möhne, Eder, and Sorpe dams. The Möhne and Eder dams were successfully breached during the raid, while the Sorpe dam was damaged but not breached.
The RAF's 617 Squadron, later known as the "Dambusters", was formed to carry out Operation Chastise. They trained specifically for the mission and carried out the raid on the night of 16-17 May 1943, using specially designed bouncing bombs.
The immediate results of the raid were significant flooding of the Ruhr valley and the loss of many lives, both military and civilian. Several factories and mines were also damaged or destroyed. However, while the raid was a tactical success and a significant morale booster for the Allies, its long-term strategic impact on the German war effort was debated.
Operation Chastise remains one of the most iconic episodes of World War II, and the Dambusters' story has been retold in numerous books, documentaries, and a famous 1955 film.
It's worth noting that while Barnes Wallis's bouncing bomb is his most famous invention, he had a long and productive career both before and after the war, contributing to many other areas of aeronautical engineering.
---
Share this Product
---
More from this collection